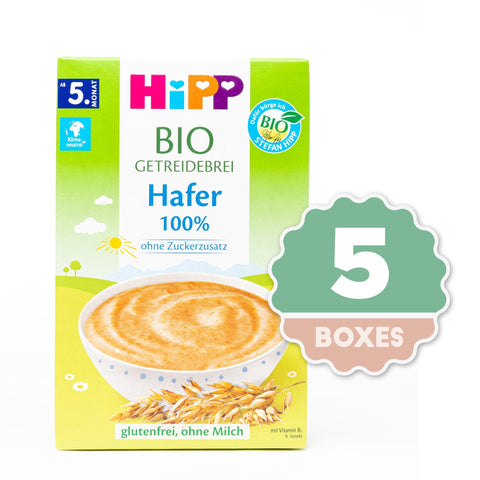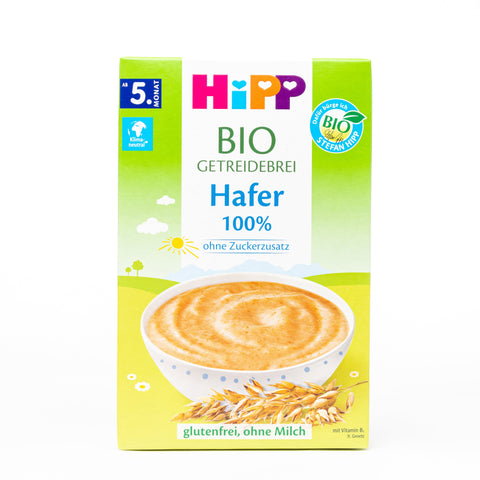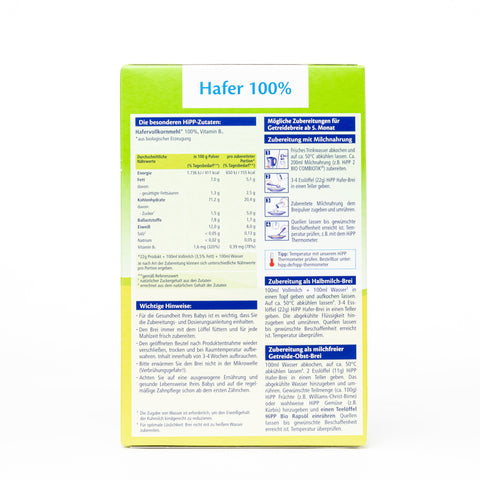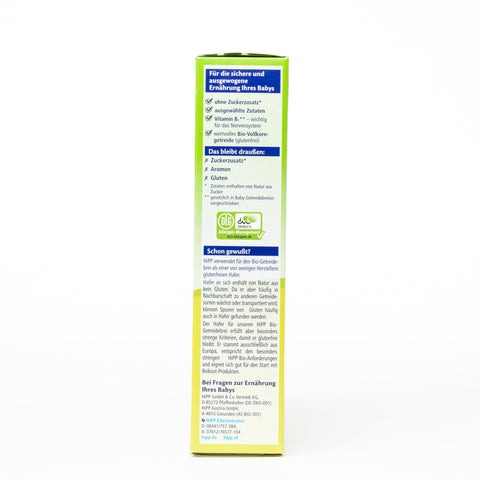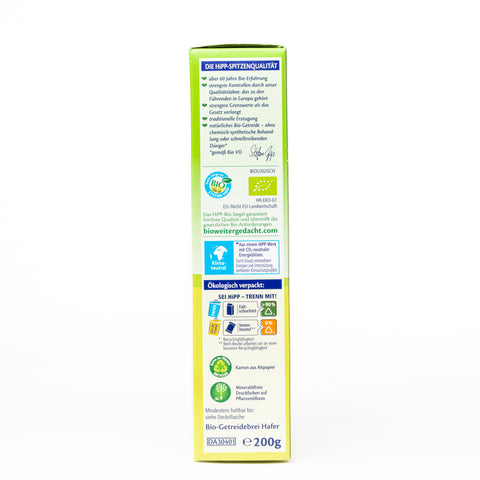 HIPP
HiPP Organic Cereal - 100% Oat Porridge - 200g (5 Boxes)
Ship From
Germany
Shipping Cost
$20 ,

Free shipping available

Enjoy FREE shipping
on order $150 and above.
See Detail

Delivery

2-4 Weeks

Country of Origin
Germany
Description
HiPP Organic Cereal 100% Oats Porridge - 200g for 5 Months+ 
Made with the finest organic ingredients, we go way above EU Organic standards to ensure only the highest quality organic food makes it to meal times.
Every ingredient we produce is the best it can possibly be, both for our customers and for the environment.
without added sugars (contains naturally occurring sugars)

vitamin B1 - important for the activity of the nervous system, according to the law

gluten-free

without the addition of a milk component

without the addition of flavors, dyes and preservatives - all infant and child nutrition according to the law
INGREDIENTS
100% wholemeal oat flour*, vitamin B1. *from organic production
PREPARATION INSTRUCTIONS

It is important for your baby's health that you follow the preparation and dosage instructions. Always spoon-feed the porridge and prepare it fresh for each meal. Please do not heat the milk porridge in the microwave (risk of scalding). 
Select water and porridge powder according to age and appetite according to the dosage table. 
Boil the water fresh for each porridge meal. Let it cool down to approx. 50°C
Add the powder quantity (according to the table) to the porridge plate.
Measure boiled water (according to the table), add to the porridge powder, and stir.
Allow swelling until the desired consistency is achieved. Check temperature before feeding.
Every baby is different and so the daily porridge portion can be very different. The dosage table below is for advising purposes only. 
from 6th month: 45 g (4 tablespoons) + 140 ml water = 185 g
from 8th month: 50 g (4-5 tablespoons) + 155 ml water = 205 g
for smaller portions 40 g (3-4 tablespoons) + 130 ml water = 170 g 
STORAGE
Close the opened pouch after each use to keep it dry. Store at room temperature & use within 3-4 weeks of opening.
Shipping and Return
FAQs for Shop Pay Installments