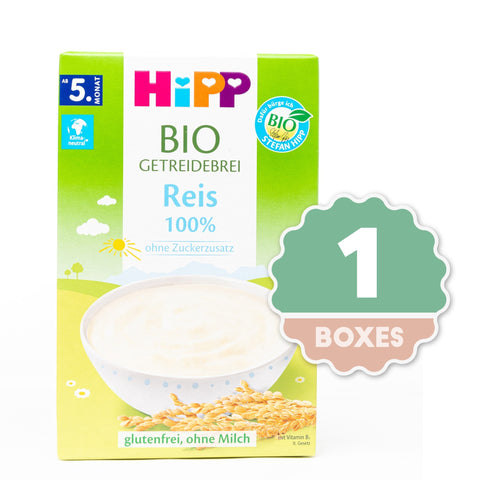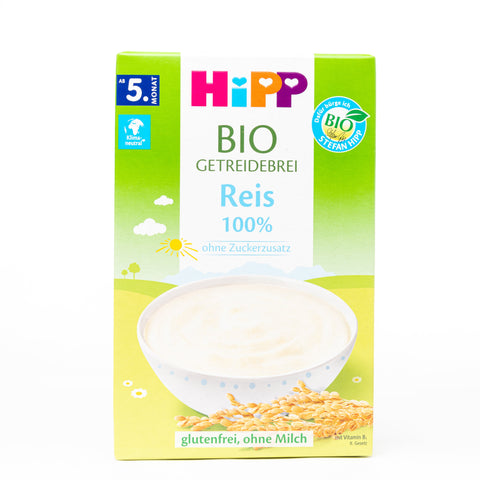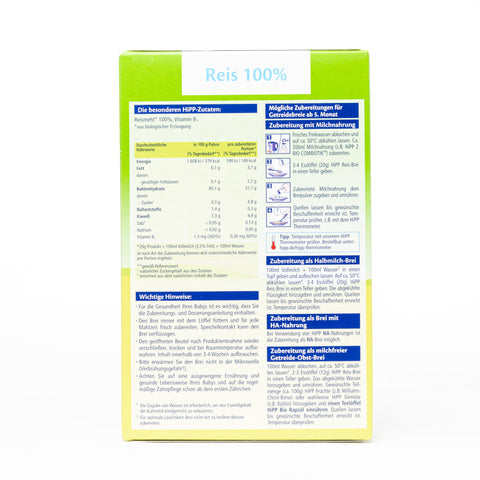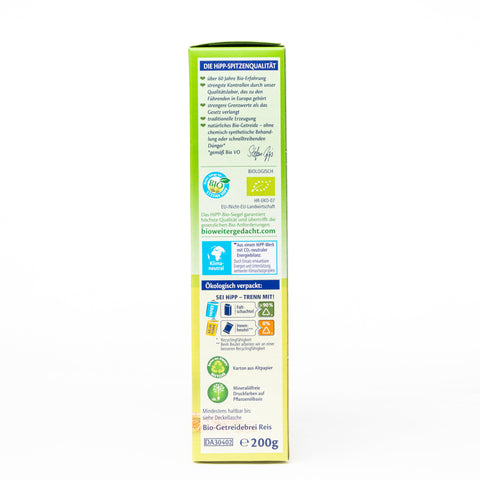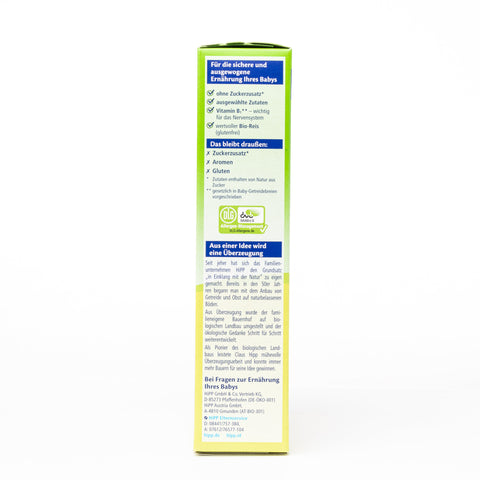 HIPP
HiPP Organic Cereal - 100% Rice Porridge - 200g (1 Box)
Ship From
Germany
Shipping Cost
$20 ,

Free shipping available

Enjoy FREE shipping
on order $150 and above.
See Detail

Delivery

2-4 Weeks

Country of Origin
Germany
Description
HiPP Organic Cereal - 100% Rice Porridge - 200g, for 4 Months+
HiPP Organic baby rice is made with 100% organic rice flakes. It is gluten-free and suitable for vegetarians, perfect for the start of weaning.
Every little thing we do on our sustainable organic farms makes a big difference to every ingredient in our high-quality baby feeding range. From individually selected fruit and veg varieties to free-roaming cows, we believe these little things are what make our foods so special.
Only once they've passed the most rigorous checks are they personally endorsed by Stefan Hipp, one of our fourth-generation family owners.
INGREDIENTS
Organic Rice Flour* (100%), Thiamin (Vitamin B1).
PREPARATION INSTRUCTIONS

It is important for your baby's health that you follow the preparation and dosage instructions. Always spoon-feed the porridge and prepare it fresh for each meal. Please do not heat the milk porridge in the microwave (risk of scalding). 
Select water and porridge powder according to age and appetite according to the dosage table. 
Boil the water fresh for each porridge meal. Let it cool down to approx. 50°C
Add the powder quantity (according to the table) to the porridge plate.
Measure boiled water (according to the table), add to the porridge powder, and stir.
Allow swelling until the desired consistency is achieved. Check temperature before feeding.
Every baby is different and so the daily porridge portion can be very different. The dosage table below is for advising purposes only. 
from 6th month: 45 g (4 tablespoons) + 140 ml water = 185 g
from 8th month: 50 g (4-5 tablespoons) + 155 ml water = 205 g
for smaller portions 40 g (3-4 tablespoons) + 130 ml water = 170 g 
ALLERGY ADVICE
No added soya
No added wheat
No added egg
Gluten-free
No added milk/lactose
No added peanut
No added nut
No added celery/celeriac
Suitable for vegetarian
STORAGE
Close the opened pouch after each use to keep it dry. Store at room temperature & use within 3-4 weeks of opening.
Shipping and Return
FAQs for Shop Pay Installments