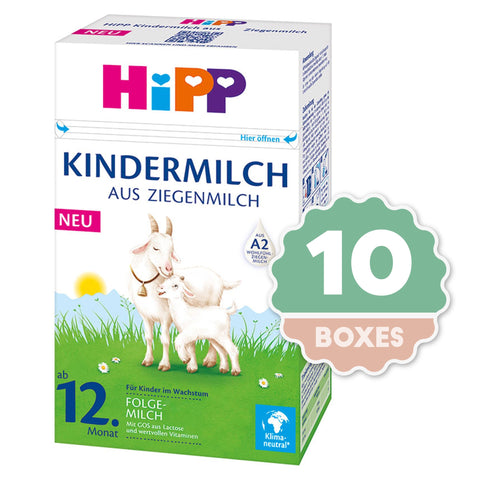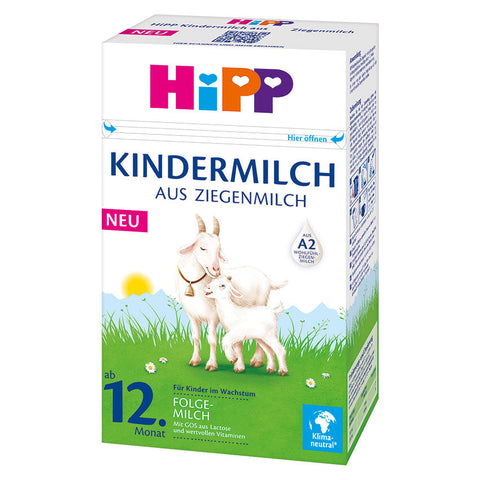 HIPP
HiPP Organic Kindermilch Growing up Goat Milk - 400g ( 10 boxes )
| | |
| --- | --- |
| Ship From | Germany |
| Shipping Cost | Free |
| Delivery | 2-4 Weeks |
| Country of Origin | Germany |
Description
Looking for a healthy, organic goat milk formula that provides the best nutrition for your growing baby? Look no further than HiPP Organic KindermilchGrowing Up Goat Milk!
It is made with organic A2 goat milk and prebiotics; this formula is perfect for babies aged 12 months and older who need a balanced diet for growth and development. The gentle formulation of HiPP Kindermilch aids in your baby's digestion, while the inclusion of prebiotics helps to alleviate colic and improve bowel movements.
Unlike other formulas on the market, HiPP likes to keep things natural, and lactose is the main carbohydrate in this formula. You won't find any added starch or maltodextrin, artificial sweeteners, or GMOs in this product. Instead, KindermilchGrowing Up Goat Milkis packed with nutrients like vitamins A, D, and E, minerals, and essential fatty acids (DHA and ARA) vital for your baby's health and well-being.
As your baby grows, they need more iron in the diet to support their energy levels, and KindermilchGrowing Up Goat Milkhas more iron than HiPP infant milk to ensure a sufficient iron supply. In addition, the reduced protein and fat content in this formula provides an age-appropriate energy supply.
Why choose HiPP Kindermilch Growing Up Goat Milk?
Perfect for babies 12+ months

Prepared with organic skim goat's milk

Easier to digest A2 milk protein

Contains prebiotics (GOS)

No starch or maltodextrin

No harmful chemicals, pesticides, antibiotics, or GMOs.
HiPP products only use the highest-quality clean EU organic ingredients, ensuring your baby receives all the essential nutrients they need as they grow. So, try HiPP Organic KindermilchGrowing Up Goat Milk today and give your little one the best start in life!
Ingredients
Skimmed goat's milk*, lactose*, vegetable oils* (palm oil***, rapeseed oil*, sunflower oil*), skimmed goat's milk powder*, galacto-oligosaccharides* from lactose*, fish oil**, calcium carbonate, choline, Mortierella alpina oil, sodium citrate, L-tyrosine, vitamin C, L-tryptophan, ferrous sulphate, L-cystine, zinc sulphate, inositol, pantothenic acid, niacin, vitamin E, L-carnitine, cupric sulphate, vitamin A, vitamin B1, vitamin B6, folic acid, manganese sulphate, vitamin K, sodium selenite, potassium iodide, vitamin D, D-biotin, vitamin B12.
*from organic production 
**contains DHA (a legal requirement for infant formula) – DHA belongs to the group of omega-3 fatty acids
*** Organic palm oil from sustainable cultivation, certified by independent inspection bodies
Shipping and Return
FAQs for Shop Pay Installments