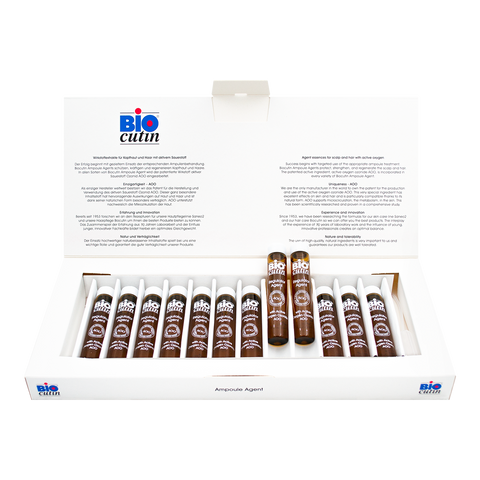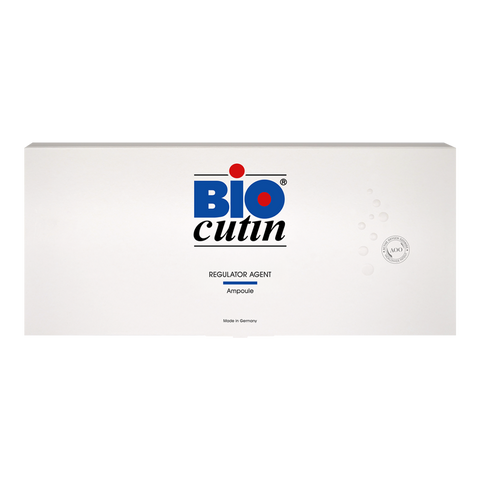 Biocutin
Biocutin Regulator Agent Hair Ampoule - 10ml * 12
Ship From
Germany
Shipping Cost
$20 ,

Free shipping available

Enjoy FREE shipping
on order $150 and above.
See Detail

Delivery

2-4 Weeks

Country of Origin
Germany
Description
BIOCUTIN® Regulator Agent Hair Ampoule - 10ml *12 / 12*0.34 fl.oz
Are you tired of dealing with irritated scalp and hair loss issues? Look no further! Biocutin Regulator Agent Hair Ampoule is here to transform your haircare routine. Crafted with natural ingredients and made in Germany, this revolutionary hair ampoule is perfect for everyone, offering a vegan, alcohol-free, paraben-free, and chemical-free formula. Each package contains 12 ampoules, containing 10 ml of potent formula each, providing a total of 120 ml of nourishing care for your hair and scalp.
The Regulator Agent Ampoule is designed to soothe the scalp and combat hair loss caused by various factors. Thanks to its powerful blend of panthenol and thymus extract, it effectively relieves itching and inflammation, providing comfort to your scalp. With improved dermal microcirculation, the ampoule stimulates hair follicles, promoting healthy hair growth & preventing further hair loss.
Why Choose Biocutin Regulator Agent Hair Ampoule?

Made with natural ingredients
Vegan and cruelty-free
Alcohol-free, paraben-free, and silicone-free
Dermatologically tested
Clinically proven to be effective
Benefits:
Biocutin Regulator Agent Hair Ampoule has several beneficial effects on the scalp and hair. It can:

Soothe an irritated scalp
Reduce inflammation
Improves dermal microcirculation
Stimulate hair growth
Reduce hair loss
Strengthen hair follicles
Improve the overall health of the hair
Main ingredients: Panthenol, keratin, thymus extract, cysteine, placental extract, hyaluronic acid, and active oxygen ozonide (AOO)
Application: After washing, thoroughly rinse hair and scalp. Then break open a glass ampoule of the Biocutin Regulator Agent, apply it to the scalp with the enclosed pipette, and gently massage in.
Do not rinse out!
FOR EXTERNAL APPLICATIONS ONLY.
Shipping and Return
FAQs for Shop Pay Installments