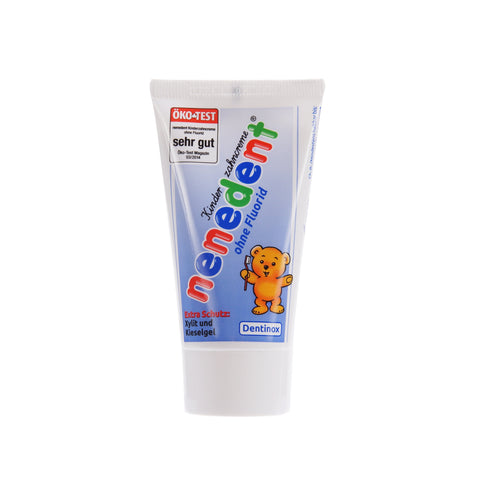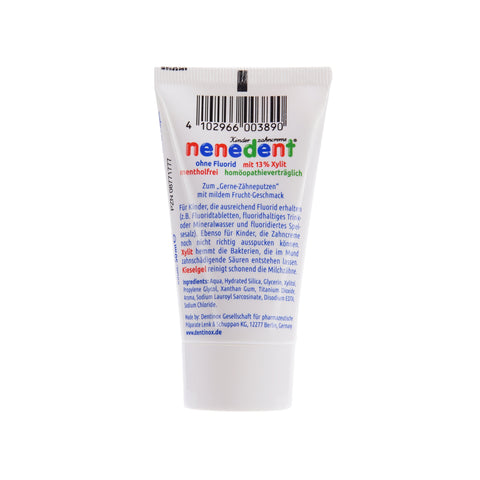 DENTINOX
DENTINOX - nenedent® Children's Toothpaste without Fluoride - 50ml
Ship From
Germany
Shipping Cost
$20 ,

Free shipping available

Enjoy FREE shipping
on order $150 and above.
See Detail

Delivery

2-4 Weeks

Country of Origin
Germany
Description
Gentle Care for Strong Protection
Free of tooth decay even without fluoride.
nenedent® children's toothpaste without fluoride is the right choice if your child is being supplied with a sufficient amount of fluoride in the form of tablets.

Its high xylitol content (13%) is proven to inhibit the formation of caries bacteria, and the silica gel it contains ensures thorough but gentle cleaning of the milk teeth. In addition, it has a mild banana-apple aroma that is a motivation for regular cleaning. This means that your child loves cleaning their teeth.
Product benefits:
No fluoride
Homoeopathy-compatible
Menthol-free, free from essential oils
13% xylitol
Silica gel as abrasive
Neutral pH value
Taste suitable for children
Free of sodium lauryl sulphate, saccharin and preservatives
Shipping and Return
FAQs for Shop Pay Installments