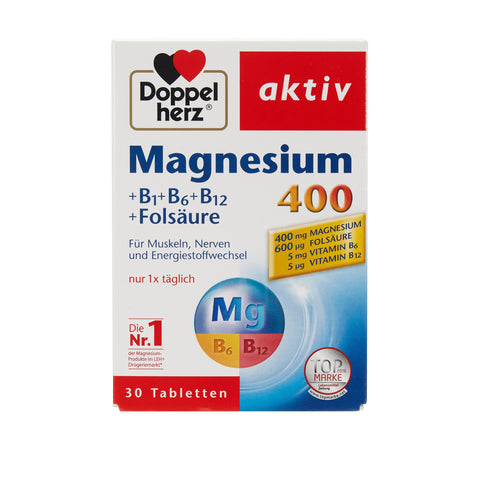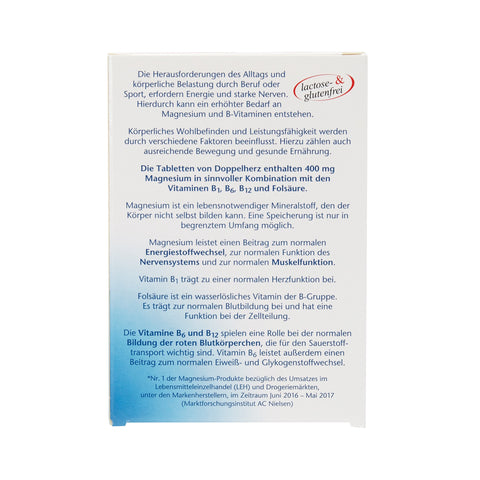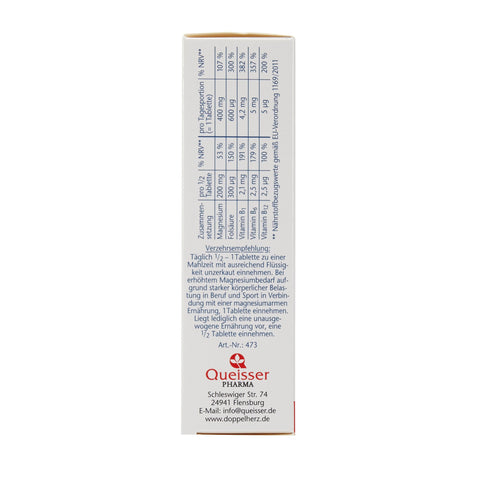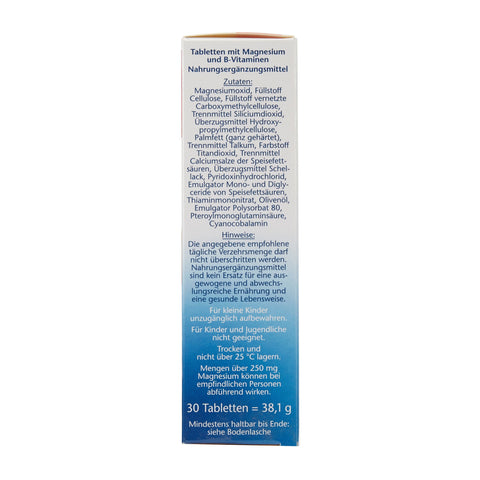 Doppel Herz
Doppelherz - Double Heart Magnesium 400 + B1 +B6 + B12 + Folic Acid - 30 Tablets.
Ship From
Germany
Shipping Cost
$20 ,

Free shipping available

Enjoy FREE shipping
on order $150 and above.
See Detail

Delivery

2-4 Weeks

Country of Origin
Germany
Description
Double heart Magnesium 400 (German Version)
+ B1 + B6 + B12 + folic acid
400 mg of magnesium as a contribution to the normal function of muscles and the nervous system

Vitamin B1 contributes to normal heart function

Magnesium, vitamin B6 + B12 support normal energy metabolism

Food supplements

Gluten-Free, Lactose-Free, Climate neutral
Consumption recommendation:
Take 1/2 - 1 tablet whole daily with sufficient liquid.
In times of regular physical exertion (e.g. work and sport), there is an increased need for magnesium. One reason for this is the participation of magnesium in the energy metabolism of our body cells and the function of the muscle cells. If the diet is unbalanced/low in magnesium, it is advisable to supplement it with 1 tablet daily.
If you only have an unbalanced / low-magnesium diet, we recommend taking 1/2 tablet.
Note:
Store dry and not above 25 ° C. Not suitable for children and young people.
Composition:
Magnesium oxide, filler cellulose, filler cross-linked carboxymethyl cellulose, separating agent silicon dioxide, coating agent hydroxypropylmethyl cellulose, palm fat (fully hardened), separating agent talc, coloring agent titanium dioxide, separating agent calcium salts of fatty acids, coating agent shellac, pyridoxine hydrochloride, emulsifier mono and diglyceride oil, emulsifier mono and diglyceride Polysorbate 80, pteroyl monoglutamic acid, cyanocobalamin.
Magnesium supports normal muscle function and energy metabolism
The challenges of everyday life and physical strain from work or sport require energy, muscle strength, and nerves. An optimal supply of vitamins and minerals is an important prerequisite for the well-being and performance of our body.
Magnesium 400 mg - during physical exertion
Magnesium is an essential mineral that the body cannot produce itself. In addition, storage is only possible to a limited extent.
Good magnesium suppliers are z. B. Whole grain products, legumes, many vegetables as well as liver, poultry and fish.
Magnesium contributes to the normal energy metabolism and contributes to the normal function of the nervous system and muscles.

Vitamin B1 also makes a contribution to normal heart function and, like vitamins B6 and B12, plays a role in the normal functioning of the nervous system.
The vitamins B6 and B12 contribute to the normal formation of red blood cells, which provide oxygen transport in the blood. In addition, they contribute to the normal function of the immune system, which can be particularly challenged during physical activity.
Folic acid plays a role in normal cell division and blood formation. Together with vitamins B6 and B12, it contributes to normal homocysteine ​​metabolism.
Shipping and Return
FAQs for Shop Pay Installments