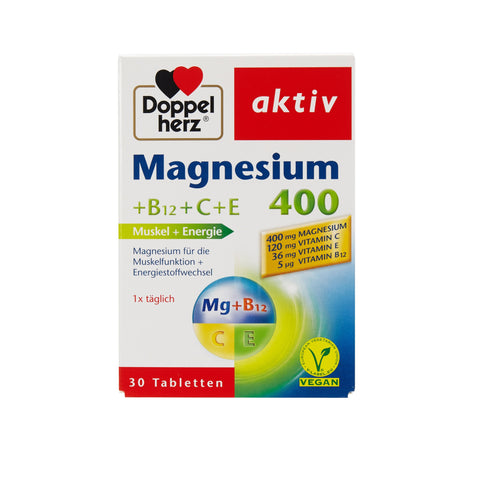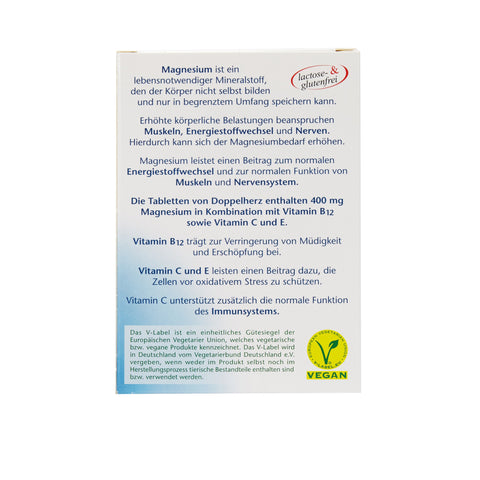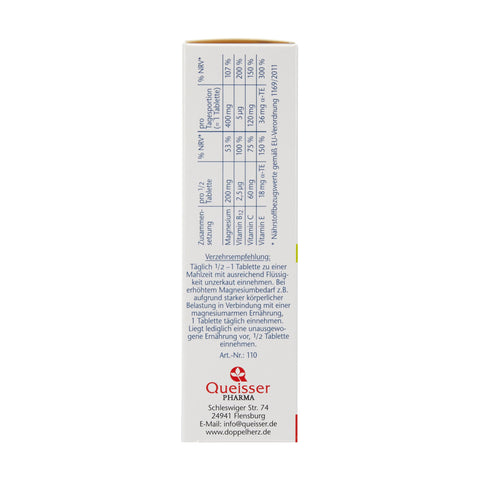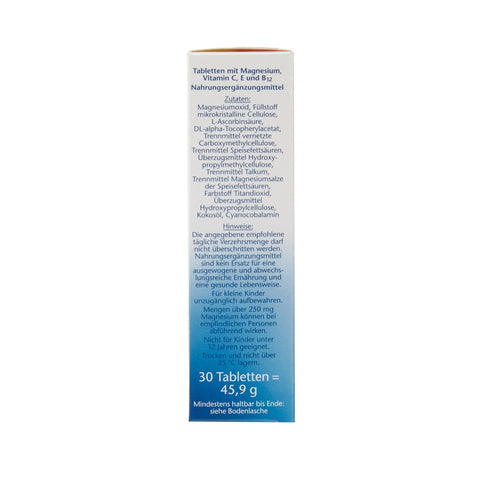 Doppel Herz
Doppelherz - Double Heart Magnesium 400 + B12 + C + E - 30 Tablets
Ship From
Germany
Shipping Cost
$20 ,

Free shipping available

Enjoy FREE shipping
on order $150 and above.
See Detail

Delivery

2-4 Weeks

Country of Origin
Germany
Description
Double heart magnesium 400 + B12 + C + E
Muscle function + energy metabolism
400 mg magnesium as a contribution to normal energy metabolism and the normal function of muscles and the nervous system

Vitamin C supports the normal function of the immune system

Vitamins C and E help protect cells from oxidative stress

Suitable for vegetarians and vegans

Food supplements

Gluten free, lactose free, Vegan, Climate neutral
Consumption recommendation:
Take 1 / 2–1 tablet daily with a meal with sufficient liquid, whole.
With increased magnesium requirement z. Take 1 tablet a day, for example, due to physical exertion in connection with a diet low in magnesium. If you only have an unbalanced diet, take ½ tablet.

Notes: Amounts over 250 mg of magnesium can have a laxative effect in sensitive people.
Note:
Store dry and not above 25 ° C. Not suitable for children under 12 years of age.
Composition:
Magnesium oxide, filler microcrystalline cellulose, L-ascorbic acid, DL-alpha-tocopheryl acetate, release agent cross-linked carboxymethyl cellulose, release agent fatty acids, coating agent hydroxypropylmethyl cellulose, release agent talc, release agent magnesium salts of fatty acids, coloring agent titanium dioxide, coating agent hydroxypropylmethylcellulose, coconut oil, coconut oil.
Doppelherz tablets contain 400 mg magnesium in combination with 5 µg vitamin B12 as well as 120 mg vitamin C and 36 mg α-TE vitamin E.
Who should pay special attention to their magnesium balance?
Athletes should pay particular attention to an adequate supply of magnesium because on the one hand, they sweat out the important mineral, on the other hand, they need it for muscle function. A small rule of thumb for athletes: if you are exercising for more than half an hour, you should drink a small glass of low-carbon mineral water every 15 to 20 minutes. In addition, attention should be paid to a diet rich in magnesium with, for example, whole grain products, nuts, or legumes. Dietary supplements can also help meet daily needs.

Even stressed professionals or mothers can use additional magnesium.

People over 60: In fact, our body no longer uses magnesium as effectively as it did in younger years - while the demand remains the same.
Pregnant women should also pay attention to their magnesium balance, as they have to take care of the unborn child and its growing magnesium needs.
Whether during sport, with particularly stressed muscles or stress: in many areas, covering the additional magnesium requirement can be an important prerequisite for an active life.
What is the V (eggie) label? 
Would you like to eat meat-free, only eat plant-based foods, or avoid certain animal ingredients for health reasons? Then lookout for the V-Label: It tells you whether a product meets your requirements or whether a restaurant offers suitable dishes.
Categories simplify orientation
The label awarded by the European Vegetarian Union (EVU) provides orientation when choosing food - as well as when buying food supplements. Thanks to the seal of approval, you can recognize vegetarian and vegan offers at a glance when shopping or visiting restaurants.
There are a total of 4 categories:
• ovo-lacto-vegetarian (with milk and eggs)
• ovo-vegetarian (with eggs, without milk)
• lacto-vegetarian (with milk, without eggs)
• vegan (completely without animal ingredients)
The vegan V-Label was awarded to the food supplement Doppelherz Magnesium 400 + B12 + C + E.
Shipping and Return
FAQs for Shop Pay Installments