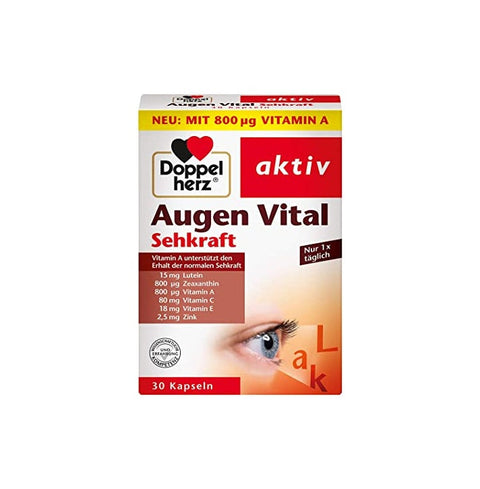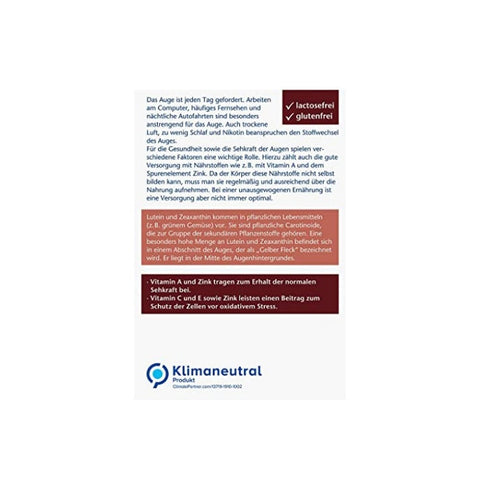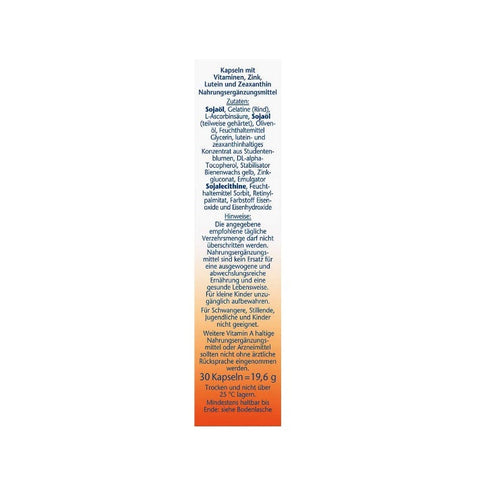 Doppel Herz
Doppelherz - Augen Vital Vision - 30 Capsules
Ship From
Germany
Shipping Cost
$20 ,

Free shipping available

Enjoy FREE shipping
on order $150 and above.
See Detail

Delivery

2-4 Weeks

Country of Origin
Germany
Description
Doppelherz Augen Vital Vision
with lutein + zeaxanthin
Selected nutrients for eye health
With 800 µg of vitamin A and zinc to maintain normal eyesight
Plus 15 mg of lutein and 800 µg of zeaxanthin
Food supplements
Gluten-Free, Lactose-Free, Climate neutral
Consumption recommendation:
Take 1 capsule daily with a meal with sufficient liquid, whole. 
Note:
Other vitamin A-containing food supplements or drugs should not be taken without consulting a doctor. 

Store dry and not above 25 ° C.

Not suitable for pregnant women, breastfeeding women, children, and adolescents. 
Composition:
Soybean oil, gelatine (beef), L-ascorbic acid, soybean oil (partially hardened), olive oil, humectant glycerine, lutein and zeaxanthine concentrate from marigold flowers, DL-alpha-tocopherol, stabilizer yellow beeswax, zinc gluconate, emulsifier soy lecithin, retinyl palate, humectant sorbent Coloring iron oxides and iron hydroxides.
Vitamin A as a contribution to maintaining eyesight
The eye is one of the most amazing organs in the human body and is challenged every day. They are of incredible importance to us - because we perceive up to 80% of all sensory impressions through our eyes!

Thanks to them, we can recognize around 150 different color tones and differentiate between dark and light. Our eyes adapt to different distances or lighting conditions and let us grasp the environment at lightning speed. It is particularly important to protect these incredible skills!

What is a burden on our eyes?
Working on the computer, watching TV frequently, air conditioning, and driving at night are particularly stressful on the eye. Dry air, too little sleep, alcohol, and nicotine also strain his metabolism.

Various factors play a role in health, the maintenance of visual function, and the eyesight of the eye. This also includes a good supply of nutrients.

Since our body cannot produce vitamins and trace elements themselves, they have to be taken in regularly and sufficiently through food. With an unbalanced diet, the intake is not always optimal.

The capsules from Doppelherz Augen Vital Sehkraft contain vitamins A, C, and E as well as the trace element zinc. It also contains 15 mg of lutein and 800 μg of zeaxanthin.
Eye health nutrients - from vitamin A to zinc
We can do a lot ourselves to maintain our good eyesight for as long as possible. Regular breaks in computer work, fresh air, and an "eye-conscious" diet can help - because the eye eats with!

Vitamin A

Vitamin A contributes to the maintenance of normal eyesight and also supports the preservation of mucous membranes such as the conjunctiva in our eyes.
Vitamin A is a vitamin that is only found in animal sources. Offal such as liver is a particularly good source, but also dairy products or fish such as herring and mackerel contain the eye vitamin.
It is well known that carrots are the food for healthy eyes, the beautiful color of which is the inspiration for the name "carotene". Some carotenoids are precursors of vitamin A, beta-carotene is probably the best known and can be converted into pure vitamin A by the body. Vitamins

C, E, and zinc

Due to the visual process and constant exposure to light, the eye is exposed to oxidative stress or free radicals. In order to be able to break down these free radicals, the body has its own "protective system". Vitamin C and E as well as zinc help protect cells from oxidative stress.

vitamin C, also known as ascorbic acid, is found in citrus fruits, peppers and cabbage vegetables, for example. However, the vitamin can be quickly lost through preparation and long storage times. If you want to take vitamin C through fruit, it is best to eat it unpeeled, as a particularly large amount of ascorbic acid is stored directly under the peel. 

Plant foods contain especially a lot of vitamin E. Edible oils such as sunflower oil and wheat germ oil, but also grain sprouts and nuts are considered good sources of vitamin E.

The trace element zinc not only plays a major role in our immune system, but it also helps maintain normal eyesight and supports the normal metabolism of vitamin A.

Zinc is contained in shellfish such as oysters and shrimp, in offal, but also in plant-based foods such as wheat bran or pumpkin seeds. However, zinc from plants cannot be used as easily by the human body as from animal foods.

Lutein and Zeaxanthin

Lutein and zeaxanthin are found in plant-based foods (e.g. green vegetables). They are vegetable carotenoids that belong to the group of secondary plant substances.
A particularly high amount of lutein and zeaxanthin is found in a part of the eye called the "yellow spot". It lies in the middle of the fundus.
Shipping and Return
FAQs for Shop Pay Installments