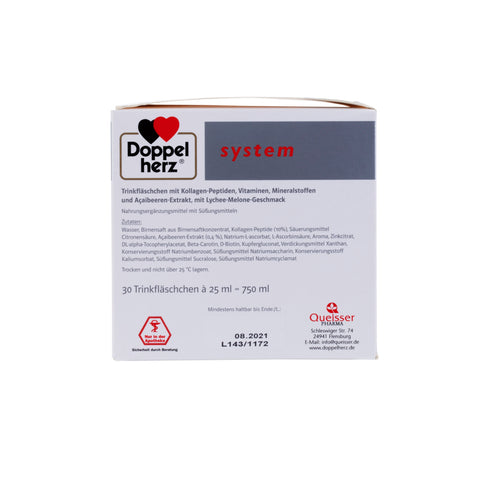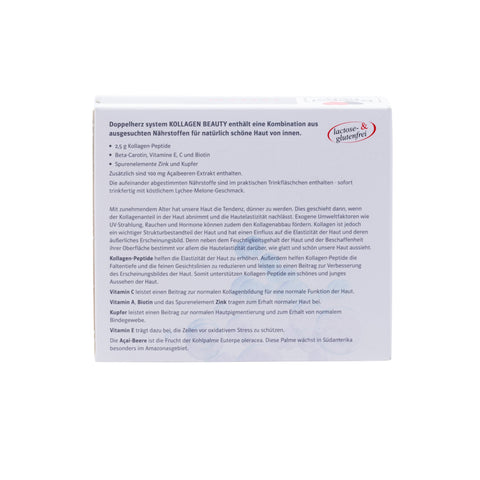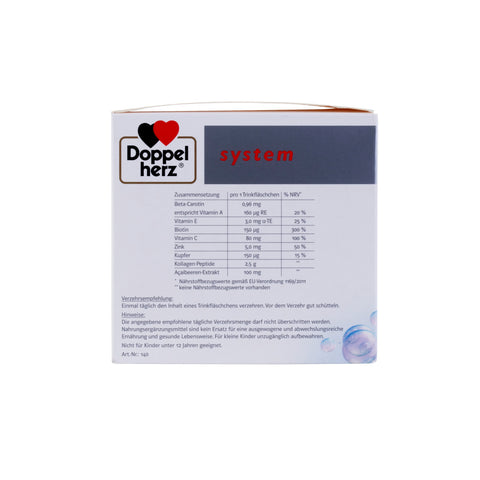 Doppel Herz
Doppelherz - Double Heart System Collagen Beauty - 25ml * 30 Bottles
Ship From
Germany
Shipping Cost
$20 ,

Free shipping available

Enjoy FREE shipping
on order $150 and above.
See Detail

Delivery

2-4 Weeks

Country of Origin
Germany
Description
Double heart system COLLAGEN BEAUTY
Collagen peptides + açai extract + biotin + zinc
Collagen peptides help to reduce the depth of wrinkles and increase the elasticity of the skin

Vitamin A, zinc, and biotin for the maintenance of normal skin

Vitamin C contributes to normal collagen formation for normal skin function

Copper as a contribution to the maintenance of normal connective tissue

Food supplements

Gluten-free, lactose-free, climate-neutral
Consumption recommendation:
Consume the contents of a drinking bottle once a day. Shake well before consumption.
Note:
The recommended daily dose should not be exceeded.

Dietary supplements are no substitute for a balanced and varied diet and a healthy lifestyle.

Keep out of the reach of small children.

Not suitable for children under 12 years of age. 

Store dry and not above 25 ° C.
Composition:
Water, pear juice from pear juice concentrate, collagen peptides (10%), acidifier citric acid, acai berry extract (0.4%), sodium L-ascorbate, L-ascorbic acid, aroma, zinc citrate, DL-alpha-tocopheryl acetate, beta-carotene, D-biotin, copper gluconate, thickener xanthan gum, preservative sodium benzoate, sweetener sodium saccharin, preservative potassium sorbate, sweetener sucralose, sweetener sodium cyclamate
Collagen peptides for firmer and smoother skin
Doppelherz system KOLLAGEN BEAUTY contains collagen peptides for inner beauty as well as selected vitamins and trace elements plus açai berry extract.
As a high-quality dietary supplement,  Doppelherz system KOLLAGEN BEAUTY is designed for long-term use. A possible effect occurs after 4 - 8 weeks. It is available in pharmacies at an attractive price-performance ratio.
The coordinated nutrients are contained in the practical drinking bottle - ready to drink with a delicious lychee and melon taste!

Nutrients in the double heart system COLLAGEN BEAUTY :
Vitamin A, zinc, and biotin help maintain normal skin

Copper for a contribution to normal skin pigmentation and normal connective tissue formation

With 100 mg açai extract

Practical drinking bottles with a delicious lychee and melon flavor
The skin - the mirror of our life
The skin is our largest organ and envelops us like a protective coat. Fresh skin is associated with youth, beauty, and joie de vivre. However, the skin changes due to natural aging processes, but also due to environmental influences - it loses its tension and elasticity.

Daily grooming, good nutrition, and exercise in the fresh air all help you look young longer. But there are also substances that can support our skin from the inside: the collagen peptides.

When we are young, our skin is firm, elastic, smooth, and beautiful. It can store a lot of water and is wrinkle-free. However, over the years, collagen formation decreases:
The skin loses moisture and becomes drier

It is less firm and elastic

It becomes thinner and tends to wrinkle


 
What is the effect of collagen peptides?
In addition to a healthy lifestyle, oral intake of collagen peptides can also have a positive effect on appearance. The collagen peptides can support the beauty from within. The depth of wrinkles and fine facial lines are reduced. The elasticity of the skin is also improved. In this way, collagen peptides help the skin to look beautiful and young.

Each drinking bottle Doppelherz system KOLLAGEN BEAUTY contains 2.5g collagen peptides, vitamins, and trace elements as well as açai berry extract:
Vitamin C:

 

Contributes to normal collagen formation for the normal function of the skin
Vitamin A, biotin and zinc:

contribute

 

to the maintenance of normal skin
Copper:

 

contributes to normal skin pigmentation and the maintenance of normal connective tissue
Vitamin E:

 

Helps protect cells from oxidative stress
Açai berry:

 

Fruit of the cabbage palm Euterpe oleracea.

 

This palm grows in South America, especially in the Amazon region 
Shipping and Return
FAQs for Shop Pay Installments