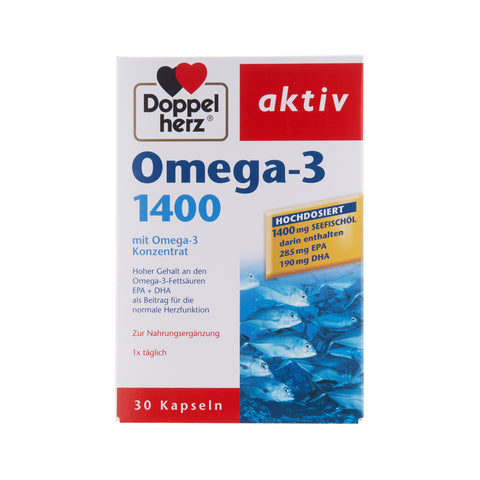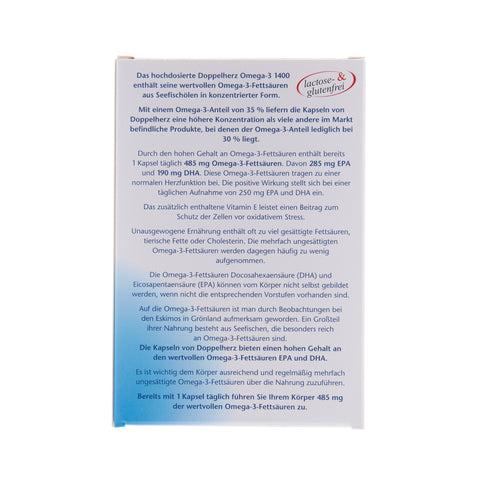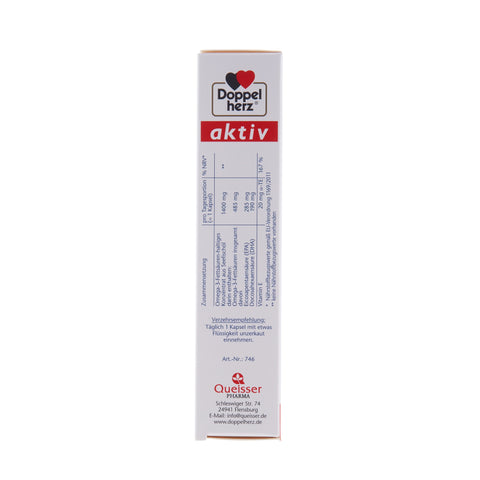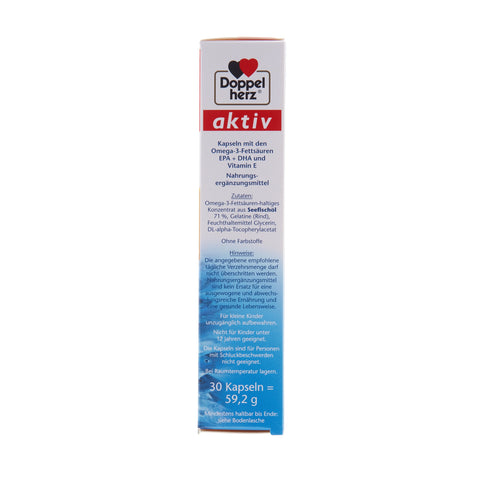 Doppel Herz
Doppelherz - Omega-3 Double Heart 1400 mg - 30 Capsules
Ship From
Germany
Shipping Cost
$20 ,

Free shipping available

Enjoy FREE shipping
on order $150 and above.
See Detail

Delivery

2-4 Weeks

Country of Origin
Germany
Description
Omega-3 Double Heart 1400 (German Version) 
With omega-3 concentrate
With valuable omega-3 fatty acids from 1400 mg sea fish oil in concentrated form

EPA and DHA as a contribution to normal heart function

Vitamin E helps protect cells from oxidative stress

Food supplements

Gluten-Free, Lactose-Free, Climate neutral
Consumption recommendation:
Take 1 capsule daily with some liquid without chewing.
Note:
The capsules are not suitable for people who have difficulty swallowing.
Not suitable for children under 12 years of age. Store dry and not above 25 ° C.
Composition:
Omega-3 fatty acid-containing concentrate from sea fish oil, gelatine (beef), humectant glycerine, DL-alpha-tocopheryl acetate
High content of omega-3 fatty acids
EPA AND DHA as a contribution to heart function
The high-dose Doppelherz Omega-3 1400 contains its valuable omega-3 fatty acids from sea fish oils in concentrated form. With an omega-3 proportion of 35%, the capsules from Doppelherz provide a higher concentration than many other products on the market where the omega-3 proportion is only 30%.
Due to the high content of omega-3 fatty acids, 1 capsule already contains 485 mg omega-3 fatty acids per day. It contains 285 mg EPA and 190 mg DHA. These omega-3 fatty acids contribute to normal heart function. 

The additionally contained vitamin E contributes to the protection of the cells against oxidative stress.
An unbalanced diet often contains too much saturated fat, animal fat, or cholesterol. The polyunsaturated omega-3 fatty acids, on the other hand, are often not consumed enough.
The omega-3 fatty acids docosahexaenoic acid (DHA) and eicosapentaenoic acid (EPA) cannot be produced by the body itself if the corresponding precursors are not present.
The omega-3 fatty acids became known through observations made by the Inuit in Greenland. Much of their diet consists of sea fish, which are particularly rich in omega-3 fatty acids. The capsules from Doppelherz have a high content of the valuable omega-3 fatty acids EPA and DHA.
It is important to get enough and regular amounts of these polyunsaturated fatty acids through food. But not everyone likes and can eat fish twice a week.
The capsules from Doppelherz contain 1400 mg of sea fish oil 35% omega-3 fatty acids and support the supply of these valuable fatty acids with just 1 capsule a day.
Shipping and Return
FAQs for Shop Pay Installments