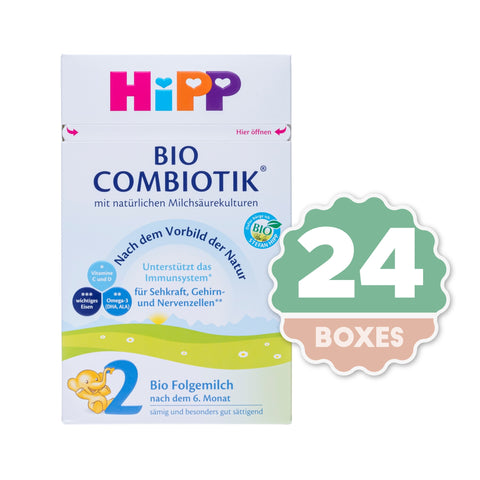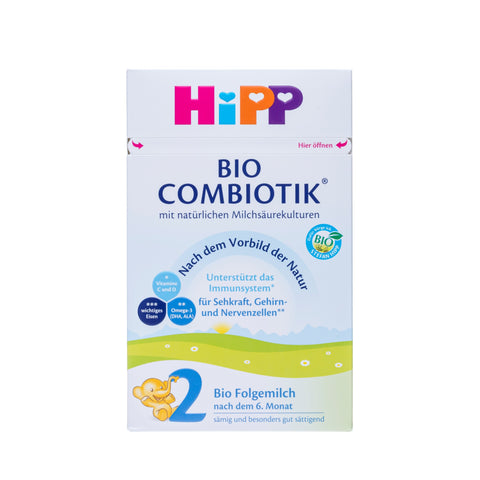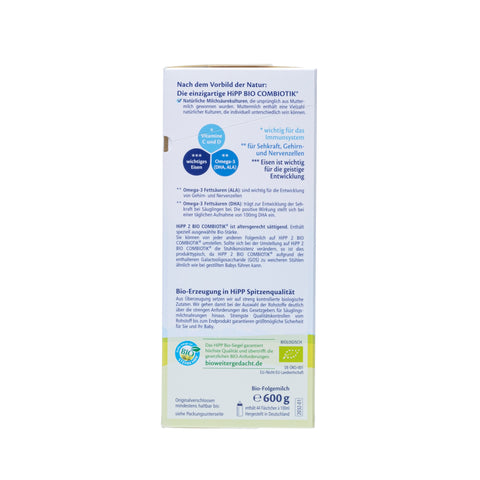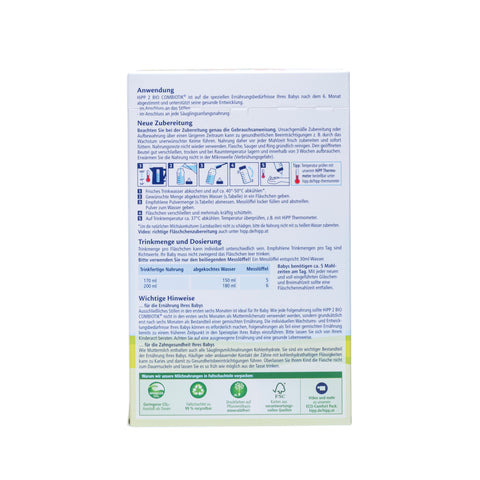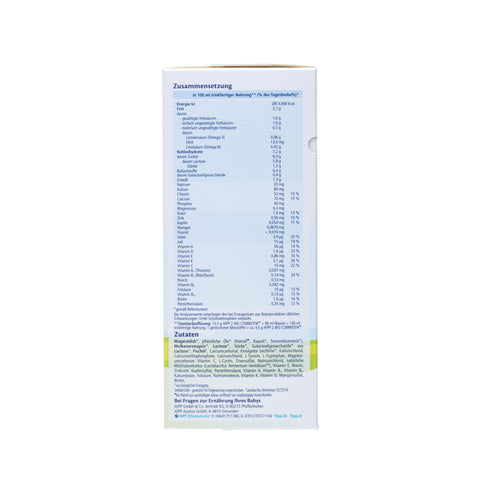 HIPP
HiPP Combiotic Stage 2 Infant Milk Formula - 600g ( 24 Boxes )
| | |
| --- | --- |
| Ship From | Germany |
| Shipping Cost | Free |
| Delivery | 2-4 Weeks |
| Country of Origin | Germany |
Description
HiPP Combiotic Stage 2 Infant Milk Formula - 600g ( 24 Boxes )
From 6 month to 10 month
HiPP Combiotic Stage 2 Formula is ideal for supplementing the weaning diet from 6 months onwards when transitioning from breast or infant milk feeding. It's the perfect choice for parents who wants the best for their growing baby. With its unique blend of organic ingredients, HiPP Combiotic Stage 2 formula provides optimal nutrition and supports your baby's growth and development.
This pack contains 24 boxes of 600g each, providing a convenient and economical option for parents who wish to ensure their baby always has access to high-quality formula. With its easy-to-digest formula, HiPP Combiotic Stage 2 formula is gentle on your baby's stomach and can be quite easily mixed with water or your preferred liquid.
We are focused on offering the best nutrition for your baby. Our Combiotic Stage 2 formula is a perfect choice and gives babies the best nourishment they need to thrive!
Why choose HiPP Combiotic Stage 2 Formula?
Perfect for babies from 6 months to 10 months.
Contains iron for cognitive development.
Vitamin A, C, and D for a healthy immune system.
Prebiotic dietary fibers (GOS) for a healthy intestinal flora
Omega 3 & 6 for brain and neural cell development
Free from GMO ingredients and synthetic preservatives
Certified organic by EU standards
Ingredients: 
Skimmed milk *, vegetable oils * (palm oil**, rapeseed oil *, sunflower oil *), Whey product *, lactose *, starch *, galactooligosaccharides * from Lactose *, fish oil ¹, Calcium carbonate, emulsifier lecithins *, potassium chloride, Calcium orthophosphates, calcium chloride, L-tyrosine, L-tryptophan, magnesium carbonate, vitamin C, L-cystine, iron sulfate, sodium chloride, natural Lactic acid culture (Lactobacillus fermentum hereditum ® 2 ), vitamin E, niacin, Zinc oxide, copper sulfate, pantothenic acid, vitamin A, vitamin B1, vitamin B6, Potassium iodate, folic acid, sodium selenate, vitamin K, vitamin D, manganese sulfate, Biotin.
* from organic production
1 contains DHA (required by law for follow-on nutrition.).
2 Lactobacillus fermentum CECT5716
** Organic palm oil from sustainable cultivation certified by independent control bodies
Shipping and Return
FAQs for Shop Pay Installments