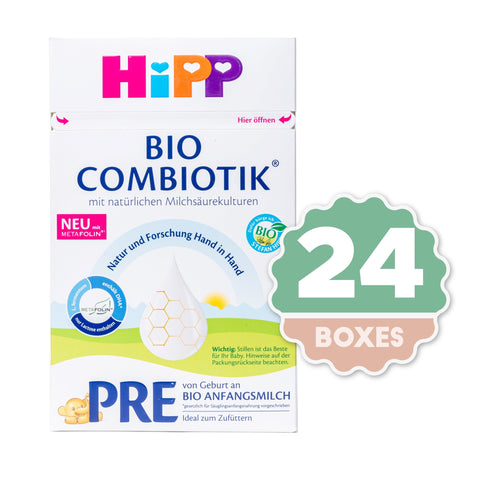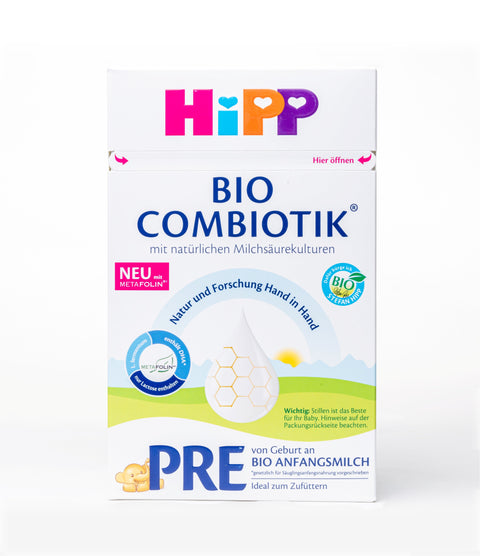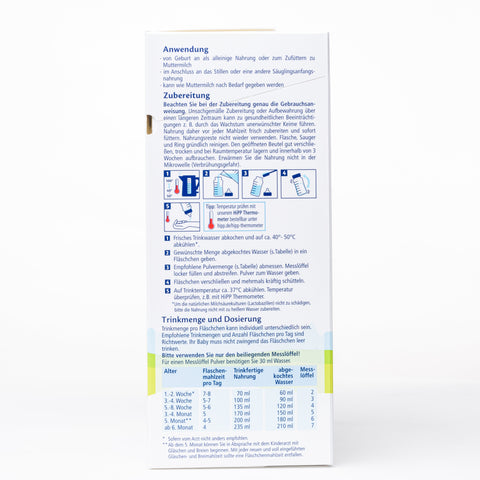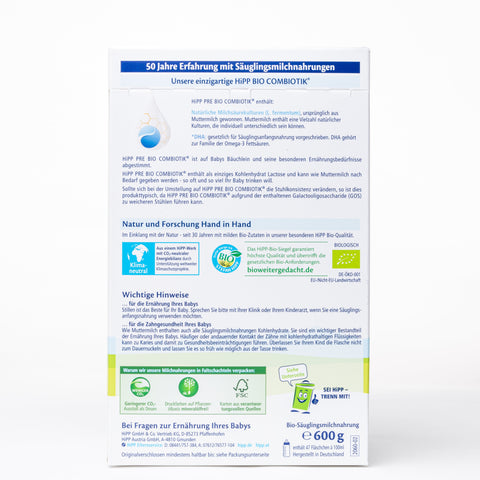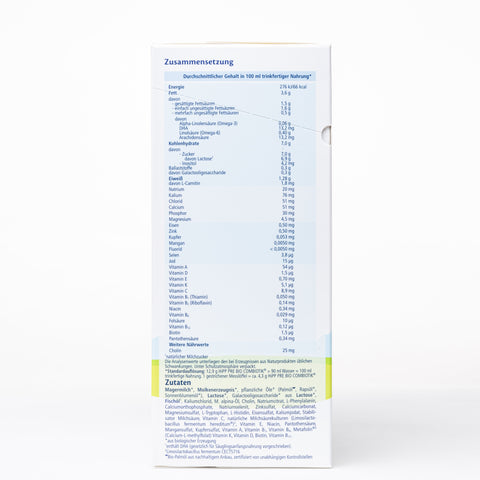 HIPP
HiPP Combiotic Stage PRE Infant Formula - 600g ( 24 Boxes )
| | |
| --- | --- |
| Ship From | Germany |
| Shipping Cost | Free |
| Delivery | 2-4 Weeks |
| Country of Origin | Germany |
Description
HiPP Combiotic Stage PRE Infant Formula - 600g ( 24 Boxes )
From Newborn to 6 month

HiPP Combiotic Stage PRE Infant Formula is a nutritionally complete, organic formula that is perfect for babies from birth to 6 months of age. It is made with carefully selected ingredients, including lactose, whey protein, vegetable oils, vitamins, and minerals. HiPP PRE Combiotic Infant Formula also contains probiotics, beneficial bacteria that can help to support your baby's digestive health. Available in a convenient pack of 24 boxes, each containing 600g of carefully crafted formula, this product is a testament to quality and care.
Why Choose HiPP Combiotic Stage PRE Infant Formula?
There are many reasons to choose HiPP Combiotic Stage PRE Infant Formula for your baby, including:

Made with organic ingredients, which means that they are grown & processed without the use of synthetic pesticides, herbicides, or fertilizers.
It is lactose-based, which is similar to breast milk and is gentle on babies' stomachs.
It contains prebiotics and probiotics that help to support digestive health.
Fortified with vitamins and minerals, which are vital for babies' growth and development.
Free from artificial flavors, colors, and preservatives.
 Important Information
Make up each feed as you need it
Use the made-up bottle within two hours

Discard any leftover milk
Ingredients
Skim Milk*, Whey Protein*, Vegetable Oils* (Palm Oil**, Rapeseed Oil*, Sunflower Oil*), Lactose*, Galactooligosaccharides* From Lactose*, Fish Oil¹, Calcium Chloride, Potassium Citrate, M. Alpina Oil, Choline, Sodium Citrate, L-Phenylalanine, Calcium Orthophosphates, L-Tryptophan, Magnesium Sulfate, Calcium Carbonate, L-Histidine, Zinc Sulfate, Ferrous Sulfate, Stabilizer Lactic Acid, Vitamin C, Natural Lactic Acid Culture (Lactobacillus Fermentum Hereditum®²), Vitamin E, Niacin, Pantothenic Acid, Copper Sulfate, Vitamin A, Vitamin B1, Potassium Iodate, Vitamin B6, Metafolin (Calcium L-Methylfolate), Sodium Selenate, Vitamin K, Manganese Sulfate, Vitamin D, Biotin, Vitamin B12
*From organic production
¹ Contains DHA (required by law for infant formula)
² Lactobacillus fermentum CECT5716
** Organic palm oil from sustainable cultivation certified by independent inspection bodies
Allergens: milk, whey, lactose, fish oil
Shipping and Return
FAQs for Shop Pay Installments