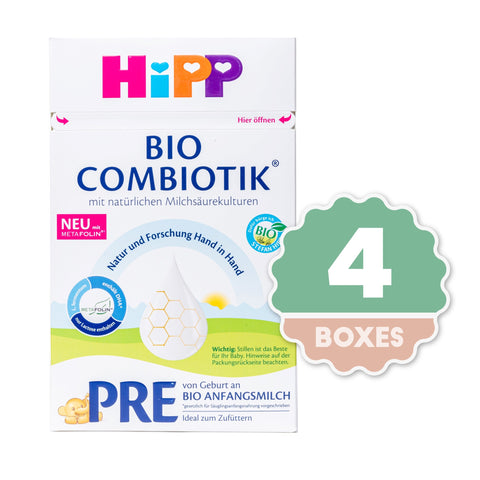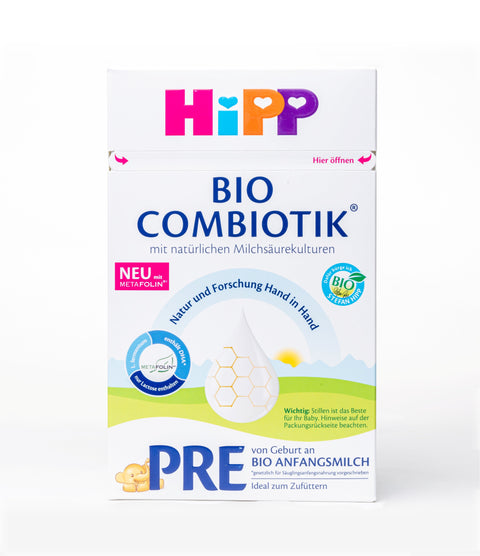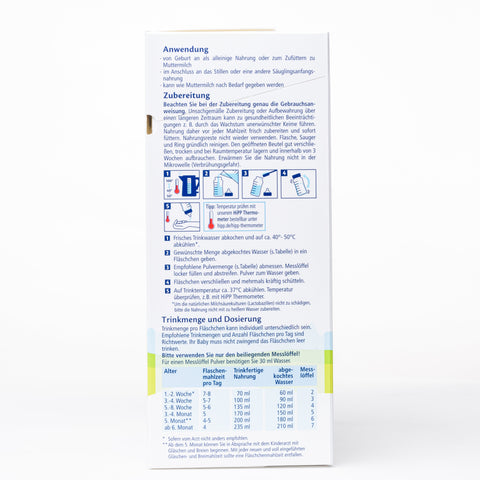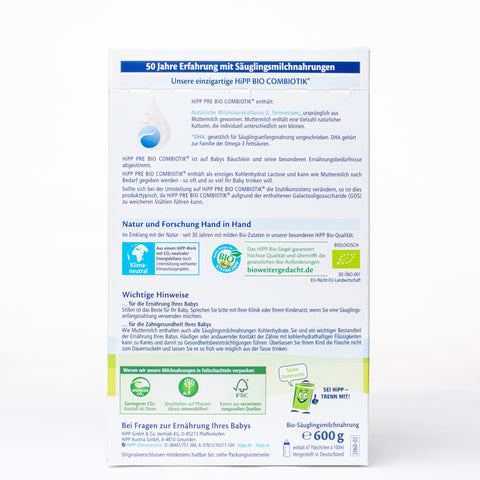 HIPP
HiPP Combiotic Stage PRE Infant Milk Formula - 600g ( 4 Boxes )
| | |
| --- | --- |
| Ship From | Germany |
| Shipping Cost | Free |
| Delivery | 2-4 Weeks |
| Country of Origin | Germany |
Description
HiPP Combiotic Stage PRE Infant Milk Formula - 600g ( 4 Boxes )
From Newborn to 6 month
Preparation step-by-step
Wash your hands and ensure that all equipment is thoroughly washed and sterilised following the manufacturer's instructions.
Boil 1 liter of freshly-run tap water and leave to cool for no longer than 30 minutes. Do not use artificially softened or repeatedly boiled water.
Measure the required amount of water into a sterilised bottle, following the feeding guide on the pack.
Using the scoop provided, add the correct number of scoops of powder – one level scoop of powder for each fluid ounce of water (approx. 30 ml). Level off the powder with the back of a clean dry knife, but don't press the powder down into the scoop.
Place the sterilised teat and cap on the bottle and shake well until all the powder has dissolved (approx. 15 seconds).
Cool the milk to drinking temperature (approx 37°C) by holding the bottle under cold running water. ALWAYS test the temperature of the milk before feeding by dripping a bit onto the inside of your wrist; the milk should feel warm, not hot.
Important information
Make up each feed as you need it
Use the made-up bottle within two hours
Discard any leftover milk
Ingredients
Skim Milk*, Whey Product*, Vegetable Oils* (Palm Oil**, Rapeseed Oil*, Sunflower Oil*), Lactose*, Galactooligosaccharides* From Lactose*, Fish Oil¹, Calcium Chloride, Potassium Citrate, M. Alpina Oil, Choline, Sodium Citrate, L-Phenylalanine, Calcium Orthophosphates, L-Tryptophan, Magnesium Sulfate, Calcium Carbonate, L-Histidine, Zinc Sulfate, Ferrous Sulfate, Stabilizer Lactic Acid, Vitamin C, Natural Lactic Acid Culture (Lactobacillus Fermentum Hereditum®²), Vitamin E, Niacin, Pantothenic Acid, Copper Sulfate, Vitamin A, Vitamin B1, Potassium Iodate, Vitamin B6, Metafolin (Calcium L-Methylfolate), Sodium Selenate, Vitamin K, Manganese Sulfate, Vitamin D, Biotin, Vitamin B12
*From organic production
¹ Contains DHA (required by law for infant formula)
² Lactobacillus fermentum CECT5716
** Organic palm oil from sustainable cultivation certified by independent inspection bodies
Allergens: milk, whey, lactose, fish oil
Shipping and Return
FAQs for Shop Pay Installments