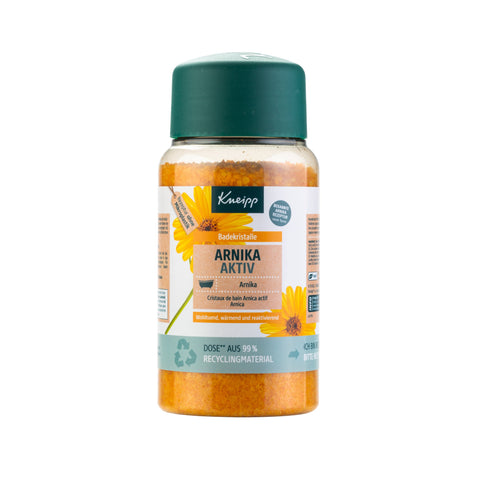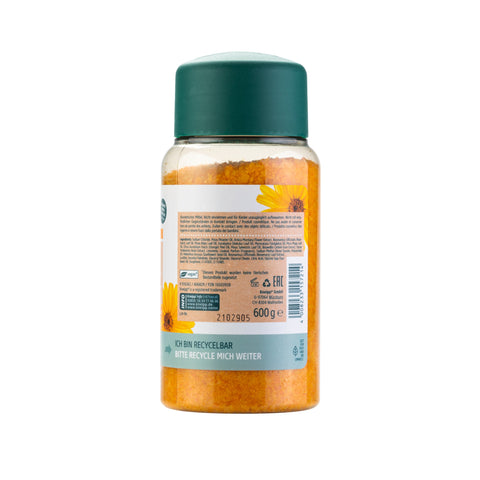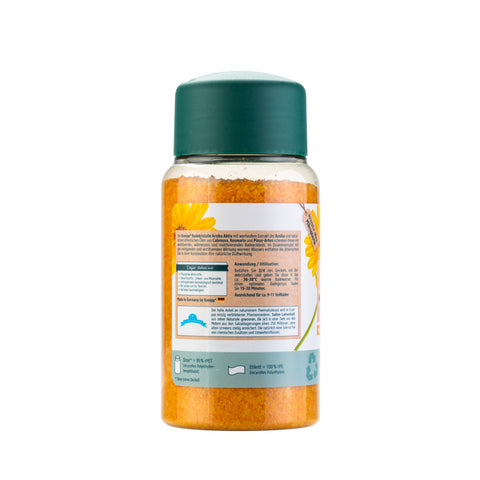 Kneipp
Kneipp - Bath Salt - Joint & Muscle - 600g
Ship From
Germany
Shipping Cost
$20 ,

Free shipping available

Enjoy FREE shipping
on order $150 and above.
See Detail

Delivery

2-4 Weeks

Country of Origin
Germany
Description
"Badekristalle Arnika Aktiv" - Arnica Mineral Bath Salt - Joint & Muscle
Soothing, warming, and reactivating. An essential addition to any post-workout recovery ritual.
Arnica Bath Salt is the #1 bestseller. It provides the perfect plant-based solution to caring for overworked joints and muscles.
No more excuses! Kneipp Joint & Muscle Mineral Bath Salt is the perfect post-workout recovery tool for active individuals. The unique crystalline structure of the natural thermal spring salt allows each crystal to absorb even more valuable essential oil than ordinary Epsom salt. This high concentration of aromatherapeutic oil delivers optimal results with only one capful per bath. Sourced from Germany's ancient underground ocean at the Saline Luisenhall, the thermal spring salt is rich with trace minerals and elements including magnesium, calcium and zinc to gently cleanse and soften the skin while the warm bath water relaxes and revives tired bodies.
A specially curated blend of Pine, Rosemary, Siberian Fir, and Arnica essential oils provide a simultaneously warming and cooling effect to soothe overworked joints and muscles, while uplifting Orange Peel helps boost your spirits to keep you feeling good about all you have accomplished. After your next workout, add this Arnica-rich salt to warm running water to create a comforting, restorative soak.
Kneipp Mineral Bath Salts contain hand-processed, natural thermal spring salt sourced from a 250-million-year-old ocean buried 1500 ft below the Earth's surface. The ancient thermal brine is free of chemical additives and environmental influences, producing salt in its purest form, uncontaminated by the pollutants of the modern world.   
Application
Fill 3/4 of the lid with bath crystals and place them in the approx. 36-38 ° C warm bathwater. For optimal bathing enjoyment, bathe for 15-20 minutes. Sufficient for approx. 9-11 full baths.
Ingredients
Sodium Chloride, Pinus Pinaster Oil, Arnica Montana Flower Extract, Rosmarinus Officinalis (Rosemary) Leaf Oil, Picea Abies Leaf Oil, Eucalyptus Globulus Leaf Oil, Myrocarpus Fastigiatus Oil, Pinus Mugo LeafOil, Citrus Aurantium Dulcis (Orange) Peel Oil, Pinus Sylvestris Leaf Oil, Boswellia Carterii Gum Extract, StyraxTonkinensis Resin Extract, Limonene, Linalool, Parfum (Fragrance), Sodium Methyl Oleoyl Taurate, Polysorbate20, Helianthus Annuus (Sunflower) Seed Oil, Rosmarinus Officinalis (Rosemary) Leaf Extract, Lecithin, Glyceryl Stearate, Glyceryl Oleate, Citric Acid, Glycine Soja (Soybean) Oil, Tocopherol, CI 47005, CI 15985.
Shipping and Return
FAQs for Shop Pay Installments