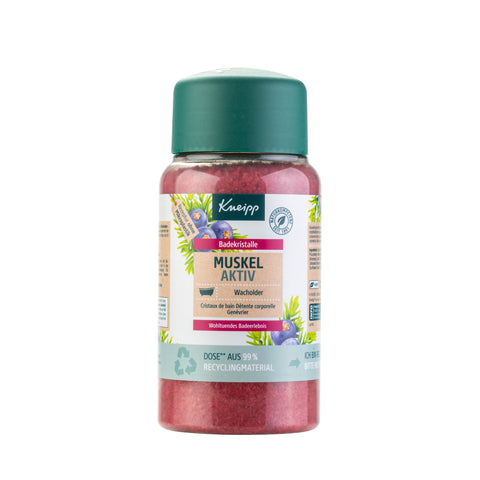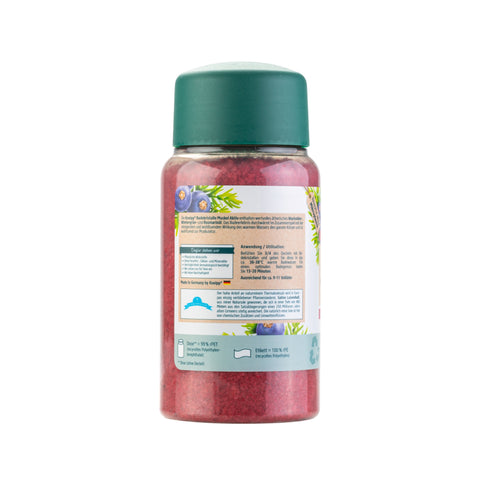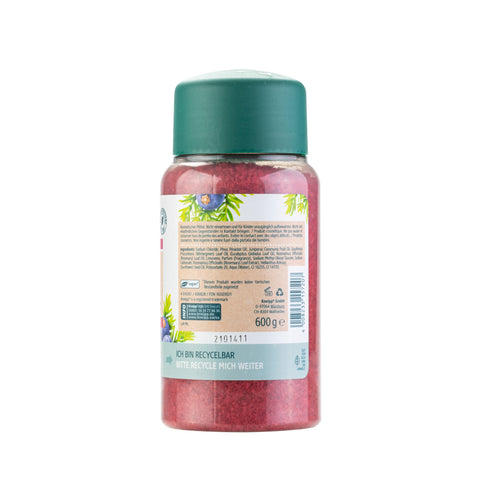 Kneipp
Kneipp - Bath Salt - Muscle Soothing - 600g
Ship From
Germany
Shipping Cost
$20 ,

Free shipping available

Enjoy FREE shipping
on order $150 and above.
See Detail

Delivery

2-4 Weeks

Country of Origin
Germany
Description
"Badekristalle Muskel Aktiv" - Juniper Mineral Bath Salt - Muscle Soothing
Packed with Juniper essential oil to soothe drained and overused muscles
Don't let fatigue slow you down. The Kneipp Muscle Soothing Mineral Bath Salt can help keep you moving. Unlike Epsom salt, the naturally sourced salt from Germany's Saline Luisenhall has a unique structure that allows more essential oils to absorb into the pores of each salt crystal creating a highly concentrated soak for a truly soothing experience. The refreshing blend of valuable Juniper, Wintergreen, and Rosemary essential oils delivers a cooling sensation that can help to relax and soothe overworked muscles. With its distinct, crisp fragrance, Juniper can help stimulate the senses and bolster the spirits when you are feeling tired and run down. Add one capful of Kneipp Muscle Soothing Mineral Bath Salt under warm running water, submerge those strained limbs, and take a deep sigh of relief.

Kneipp Mineral Bath Salts contain hand-processed, natural thermal spring salt sourced from a 250-million-year-old ocean buried 1500 ft below the Earth's surface. The ancient thermal brine is free of chemical additives and environmental influences, producing salt in its purest form, uncontaminated by the pollutants of the modern world. The high concentration of trace elements and minerals that naturally occur in our deep-sea salt gently cleanses and softens the skin as you relax in the tub. 

Application
Fill 3/4 of the lid with bath crystals and place them in the approx. 36-38 ° C warm bathwater. For optimal bathing enjoyment, bathe for 15-20 minutes. Sufficient for approx. 9-11 full baths.
Ingredients
Sodium Chloride, Pinus Pinaster Oil, Juniperus Communis Fruit Oil, GaultheriaProcumbens (Wintergreen) Leaf Oil, Eucalyptus Globulus Leaf Oil, Rosmarinus Officinalis (Rosemary) Leaf Oil, Limonene, Parfum (Fragrance), Sodium Methyl Oleoyl Taurate, SodiumCarboninalis, Rosmarinus Officinalis (Rosemary) Leaf Extract, Helianthus Annuus (Sunflower) Seed Oil, Polysorbate 20, Aqua (Water), CI 16255, CI 14720.
Shipping and Return
FAQs for Shop Pay Installments