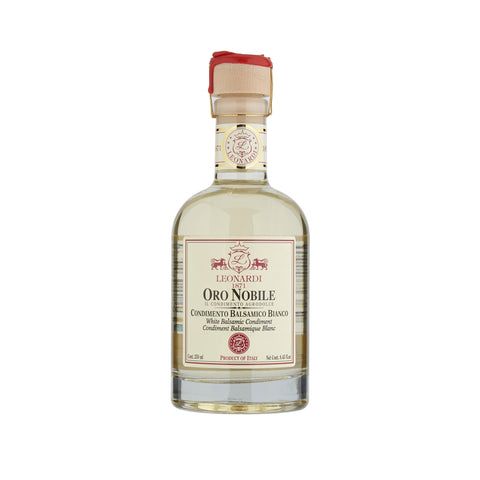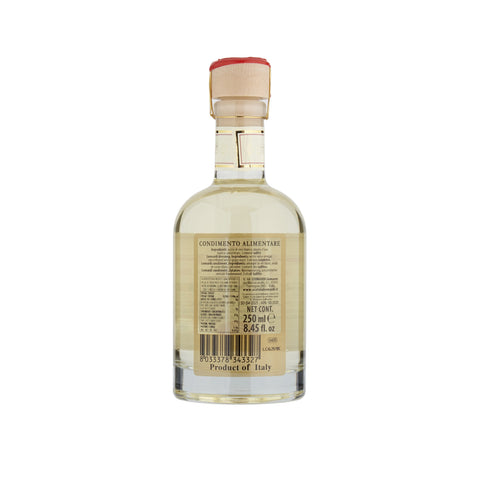 Leonardi
Acetaia Leonardi - White Balsamic Condiment - 250ml
Ship From
Germany
Shipping Cost
$20 ,

Free shipping available

Enjoy FREE shipping
on order $150 and above.
See Detail

Delivery

2-4 Weeks

Country of Origin
Italy
Description
White Balsamic Vinegar from Modena, Italy
Acetaia Leonardi's condimento balsamico bianco starts with Trebbiano grape must that is carefully cooked to preserve its delicate color. The cooked must is blended with Italian white wine vinegar and aged for at least 4 years in tightly sealed oak barrels. The result is a deep, golden-hued white balsamic vinegar bursting with crisp notes of pear, apple, and citrus with a nuanced sweetness in the finish.
How to use
This all-purpose vinegar is ideal for everyday use—from salads and dressings to a finishing touch for pan sauces. Drizzle over citrus and avocado slices for a simple salad. Or use to make a vibrant mignonette sauce for oysters and poached seafood.
Fancy yourself a master mixologist or like experimenting with libations at home? Acetaia Leonardi's White Balsamic Condiment is a unique addition to cocktails and non-alcoholic beverages. For an adult soda, muddle a few blackberries with a teaspoon of sugar, top with a splash of white balsamic vinegar and sparkling water, and garnish with a sprig of fresh mint (to make it even more adult: add a shot of vodka or gin).
About Acetaia Leonardi
There are over 300 producers of balsamic vinegar in Modena, but the Leonardi family is truly special. They have been making balsamic vinegar since 1871 and are still one of the few producers to own the land where the grapes grow. Four generations in, the Leonardi family is still making this prized elixir using traditional methods, such as cooking the Lambrusco and Trebbiano grape must in a copper cauldron and aging the vinegar in specific kinds of wooden barrels. The result is a perfectly balanced vinegar worthy of the name balsamico.
Shipping and Return
FAQs for Shop Pay Installments