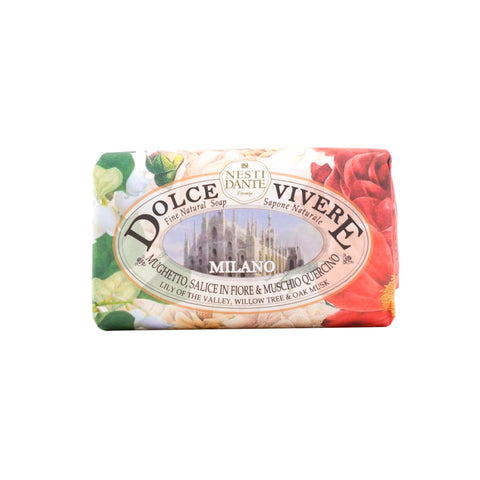 Nesti Dante
Nesti Dante DOLCE VIVERE Milano 250g
Ship From
Germany
Shipping Cost
$20 ,

Free shipping available

Enjoy FREE shipping
on order $150 and above.
See Detail

Delivery

2-4 Weeks

Country of Origin
Italy
Description
Chic and refined, the Nesti Dante Dolce Vivere Milano Soap captures the fashion-forward buzz and eternal style of the city of Milan.
The fragranced soap creates a rich and refined picture of the jet setting city with notes of fresh lily of the valley, plus sensuous willow tree and oak musk. Its sleek composition captures the timeless beauty of the city, from its ancient architecture to its modern fashion.
This nourishing, cleansing bar is crafted in Italy using a traditional method of saponification, which allows it to better hold its shape. Composed of natural vegetable fats rich in glycerides pamper skin with moisturizing care.
Net Weight: 250g / 8.8 oz
How to use: Work into wet hands then massage the soap bar to create a sumptuous lather. Massage all over your body, then rinse. Keep the soap in a clean, dry place after use to preserve its longevity.
100% biodegradable. Dermatologist tested. Not tested on animals.
Shipping and Return
FAQs for Shop Pay Installments