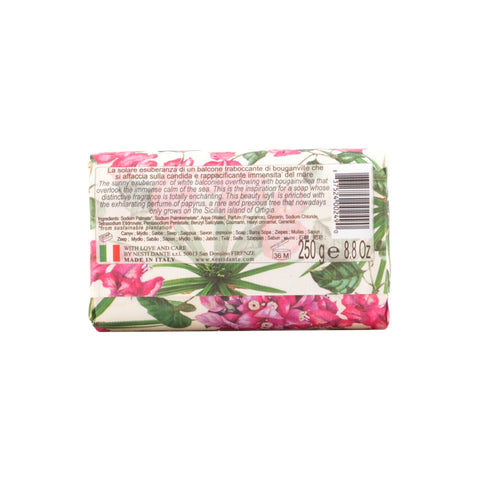 Nesti Dante
Nesti Dante - DOLCE VIVERE Sicilia Bar Soap 250g
Ship From
Germany
Shipping Cost
$20 ,

Free shipping available

Enjoy FREE shipping
on order $150 and above.
See Detail

Delivery

2-4 Weeks

Country of Origin
Italy
Description
Take a trip to the Sicilian coast with the sundrenched Nesti Dante Dolce Vivere Sicilia Soap.
This finely crafted fragranced soap captures the sensuous beauty of the sea, sky and the coastline, where bougainvilleas grow in abundance. Added notes of marine sea salt and papyrus tree create an aerial freshness, transporting you to a place of serenity.
The Nesti Dante soap is crafted from natural vegetable fats rich in glycerides, which produce a luxuriously soft leather. The traditional method of saponification allows the bar to better hold its shape, ensuring a pleasurable cleanse with every use.
Net Weight: 250g / 8.8 oz
How to use: Work into wet hands then massage the soap bar to create a sumptuous lather. Massage all over your body, then rinse. Keep the soap in a clean, dry place after use to preserve its longevity.
100% biodegradable. Dermatologist tested. Not tested on animals.
Shipping and Return
FAQs for Shop Pay Installments