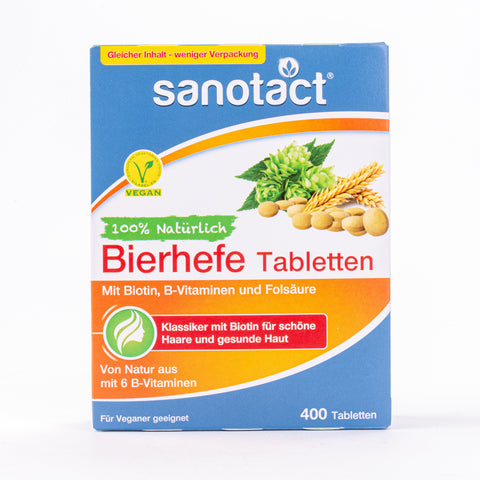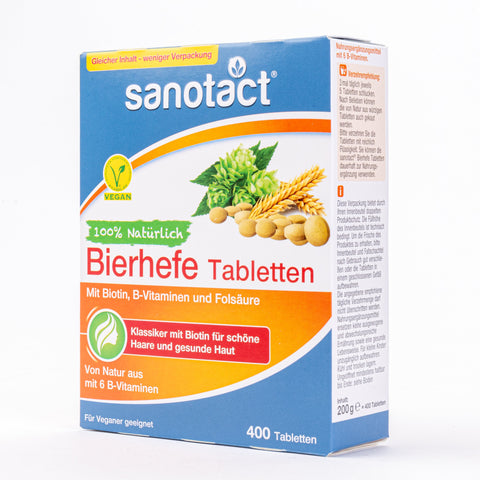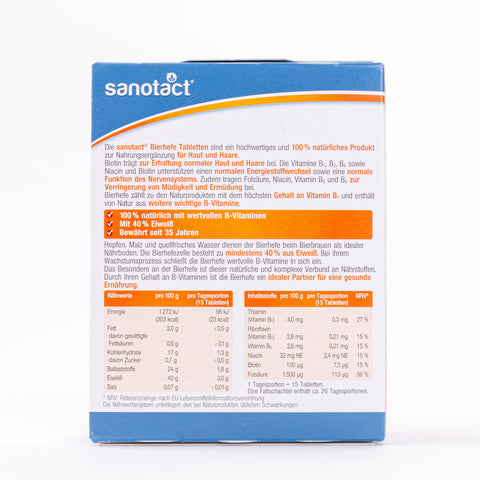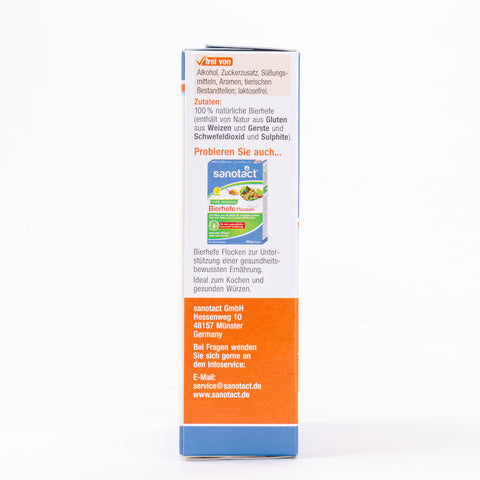 Sanotact
Sanotact Bierhefe 400 Tablets
Ship From
Germany
Shipping Cost
$20 ,

Free shipping available

Enjoy FREE shipping
on order $150 and above.
See Detail

Delivery

2-4 Weeks

Country of Origin
Germany
Description
The sanotact® Beauty Yeast tablets are made from pure brewer's yeast without any additives – proven for 35 years.

sanotact® Beauty Yeast tablets are a 100% natural product. They are therefore ideal for people who prefer a natural Food supplement.
Natural with 6 B vitamins

100% natural brewer's yeast

Over 40% protein

Suitable for vegans
The product is a natural and useful Food supplement for skin and hair. Individual B vitamins help to maintain the skin and hair, as well as support the functioning of the nervous system, contribute to normal energy metabolism, and reduce fatigue and tiredness. 
With the high content of top-quality proteins, low-fat content, and the vitamins it contains, brewer's yeast is the perfect addition to a healthy and calorie-conscious diet.
It all starts with hops, malt, and fresh natural spring water, that offer the brewer's yeast the ideal fertile soil. In its growth process, the yeast cell incorporates valuable B vitamins, leaving brewer's yeast as a good natural source of vitamin B₁. In addition, the brewer's yeast cell contains a minimum of 40% protein.
Recommended Intake: Swallow 5 tablets with plenty of water 3 times daily.
sanotact® Beauty Yeast tablets do not contain alcohol, sweeteners, flavorings, colors or animal ingredients; lactose-free.
Note: The recommended intake should not be exceeded. Food supplements are no substitute for a balanced and varied diet and a healthy lifestyle. Keep out of reach of small children.
Shipping and Return
FAQs for Shop Pay Installments